We are thrilled to welcome Wassim Sacre, our first-ever chief revenue officer at SlimPay. Earlier this year, Wassim joined the executive leadership team and board of directors, accelerating our go-to-market and commercial growth strategies.
As CRO, Wassim is driving the next chapter of international business development and partnerships. He oversees the revenue generation organization — comprising marketing, business development, sales, account management and partnerships. 
An international executive with an investor background, Wassim brings to SlimPay two decades of experience in building high-performing executive teams and crafting market strategies in the technology space. Prior to SlimPay, Wassim served as managing director at INVUS for 13 years. He got his start in management consulting at Booz Allen & Hamilton and investment banking at Goldman Sachs.
It's been a whirlwind for Wassim since Day 1, from shaping our COVID-19 response to getting to know the team — all remotely. We recently chatted with Wassim about his experience so far: 
You have the unique honor of being the first Slimmer to be fully onboarded remotely. What was that like for you?
It was interesting to meet so many Slimmers over video for the first time! It was video call after call, meeting the team from an executive and operational level. While it would have been great to meet in person, it was a bonus to meet the extended family of Slimmers like their kids. 
When times are hard and people are operating under pressure, you learn what they are really made of and where they need you as a leader. The team was calm and resilient in how they handled business in this rapidly-changing environment as well as flexible in embracing the new priorities and direction we set. 
Early on, I sensed that SlimPay had a special culture with people who are authentically open to helping each other. So it was easy for me to reach out across teams on an improvised or planned basis. 
More importantly, I put collaboration at the forefront. The risk you run as a leader in times of crisis is that you overly ponder speed at the expense of inclusion. That's why we consistently encouraged the input of Slimmers, merchants and investors on many topics. In fact, our first quarterly business review during the lockdown was a collaborative effort from all teams, resulting in an 85% satisfaction rate.
We also tried to replicate in-office watercooler talks with virtual happy hours — and for me, that's been a great way to meet colleagues without the context of project deadlines.
COVID-19 has a far-reaching impact across all businesses — our clients included. How did you address their specific concerns? 
At SlimPay, we collect funds on behalf of merchants and, therefore, a key focus for me was ensuring operational continuity. That was paramount, and we delivered. 
It was essential to assess and manage merchant risk and provide tailored solutions to our clients — not a blanket conservative approach. My background as an investor helped me shape our response to these risks. With COVID-19 affecting businesses in different ways, I wanted every solution for clients in all sectors to reflect their unique pain points and end-market risks to help them ride out the storm.
We put operational excellence and delivering customer value at the center of everything we do so that our clients know we are in their corners and supporting them in the long term.
It was also challenging for our sales and marketing teams. How did you adapt the company's commercial strategy to reflect the current times? 
This is not my first economic downturn, but it is the first time I've experienced one during a pandemic. The crisis required me to hit the ground running and to swiftly address the new priorities while ensuring the team's buy-in. Even in times of crisis, how one leads matters as much as what decisions one takes.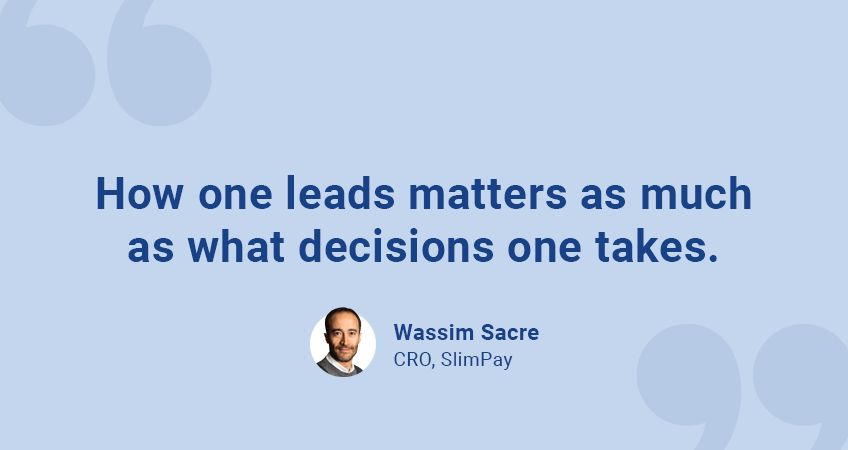 We wanted to make sure we had all hands on deck to help our merchants and partners. Our sales executives and SDRs assisted in account management — ensuring a smooth delivery of our solution at any point of usage. We also revamped our marketing strategy to focus on outbound and content relevant to our merchants in times of crisis.
With the teams focused on the skyline and not the storm, we achieved strong alignment and moved decisively to protect the business while sustaining growth. I am really proud to see how mobilized the team was during this intense period. A warm thank you to my resilient team!
Despite the disruption brought forth by COVID-19, we've seen positive trends emerge in digitalization and consumption habits. Where do you think payments are headed and how is SlimPay answering these demands?
The crisis is accelerating merchants' need for digitalization and automation to sell their products and services and manage internal processes. At SlimPay, we see payment as an enabler for both — empowering merchants to deliver a seamless experience to their customers while protecting the business. We have the digital bricks and the right payment mix to support our clients in any use case because our focus has always been about addressing their pains, not pushing a product. Merchants want a secure and frictionless payment experience, and we are pushing new and innovative solutions to address their needs — especially in the coming year.
Again, welcome to SlimPay, Wassim! We're glad to have you. 
Good news: We're growing our sales, partners and marketing teams! 
This post is also available in:
Français Español Italiano